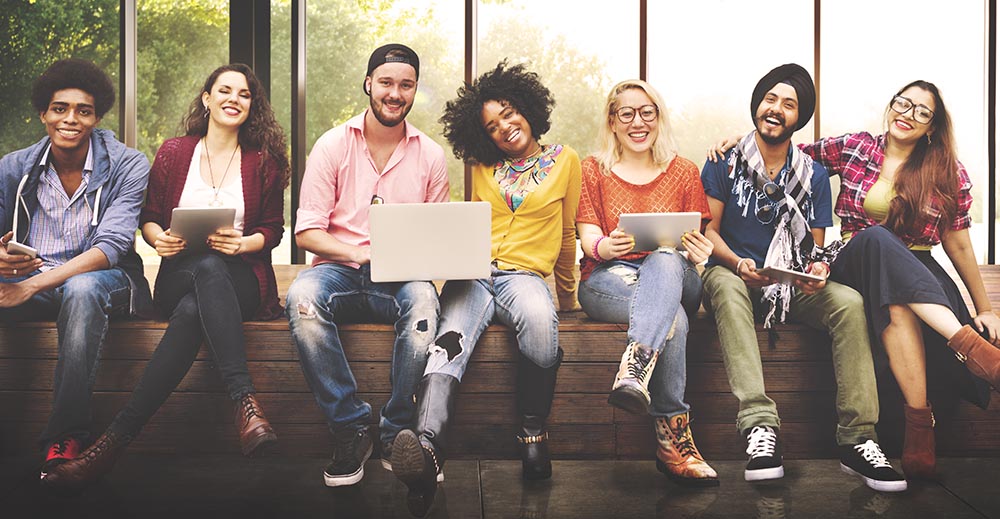 Seniors
As exciting as it is to graduate high school, the unknowns that college brings can be daunting. You may find yourself asking: How do I make new friends? How do I budget my time? How can I set myself up for success with my roommate? How does the college experience I want align with staying safe and making informed decisions?
Whether you're looking for comfort and support of your fellow peers as you prepare for this transition, tips for how to set healthier habits to last you through adulthood, or how to stay safe on your own: College Knowledge is prepared with you in mind. We're a program designed to provide resources for your next step, whether it's at a school big or small, near or far, and everything in between. We want to give you the ability to make informed decisions to get the most out of your college career.
Parents
Is my senior ready for college? This is a question most parents ask themselves as Spring semester begins the last year of high school. The answer may surprise you. The statistics are alarming and show students struggle with anxiety, overwhelm, and depression among other challenges.
We are blessed to live in an environment that prepares our children academically for college, but academics are just a piece of the college experience. What else can we do to encourage their growth and preparedness in other areas like emotional well-being, healthy habits, communication, and safety? We want students to navigate college successfully, safely, and have a fulfilling experience. As a parent you want to have confidence that you have fully equipped them to navigate and succeed in this next step.
---
Take the assessment below to see if your senior is showing signs of being ready to go?
Do you wake your senior up to go to school?    yes   no
Do you remind your senior of due dates and assignments?    yes   no
Did your senior handle the college application process on their own?    yes   no
Does your senior manage their own money?    yes   no
Does your prioritize and manage stress well?    yes   no
Does your senior motivate easily?    yes   no
Does your senior manage their time?    yes   no
Does your senior set their own appointments?    yes   no
Does your senior go to appointments on their own?    yes   no
Does your senior have good judgment/assess risk?    yes   no
Have you asked your senior if they want to attend college?    yes   no
Does your senior want to attend college?    yes   no
---
There's a reason 30% of college freshmen drop out after their first year. If you answered yes to 6 or more of the questions above, a significant amount of communication needs to happen to properly prepare your senior. A tough first semester filled with stress and self-doubt can be hard to bounce back from. At Brain Basics, we have created a workshop, College Knowledge, to empower our young adults with confidence and the skills to handle this big transition.
College Knowledge Workshop
College Knowledge is a workshop for high school seniors to assist with that next big step in life. Our workshop mission is to ensure each student begins the next chapter, armed and equipped with information and resources to assist in having a successful and healthy college experience.
Watching our children begin this next chapter can be difficult. Knowing they have the knowledge to make good decisions, been provided the basics and beyond to ensure their safety and growth into adulthood is mandatory for a greater peace of mind. Each participant will be given a workbook that will assist in navigating through each of these complex areas. This workbook is theirs to use as a relevant and constant resource for all things college. In the world we live in, society can be unpredictable and we want to extend past the basics and make certain our children can respond proactively rather than reactively.
Extending past the basics includes:
Outta' Here!
Adjustment – family separation/meeting new people/getting plugged in
Communication – conflict resolution/roommate issues/assertiveness/boundaries
Now What?
Recognizing and managing stress/anxiety/depression
Healthy choices – sleeping/eating/studying/time management/socializing/self-care
Not Me!
Safety – harassment/alcohol/meet-ups
Dating – healthy relationships/date rape/stalking/me too!
Not Here!
Safety – campus lockdown/campus safety/parking lot and dorm safety
Overall Review with Q&A
---
Cost: $299
November 25th 9:00am – 12:30pm Ladies 1:00pm – 4:30pm Gentlemen
November 26th 9:00am – 12:30pm Ladies 1:00pm – 4:30pm Gentlemen
Locations:
Planting Seeds Center for Wellness
805 E First Street, Prosper 75078
(off of Preston and First)
College Knowledge Workshop Registration
Note: All personal information is confidential and treated appropriately.